Sunday, July 30, 2006
Have a go at her poems over at PoemHunter.com by clicking the red title.
Great reads for a Sunday afternoon. Would it be too much to say that Ms. Parker was a tad "against the grain" herself?

O dear.

Perhaps it was yet another recycled editorial. Or that red "grain."

Still can't get over it.

Blond on blonde...
In what seems a rather curious move over at the News-Press, it looks like Dr. Laura has taken Barney's place as a columnist. The Star had only vague notions of who this person was to begin with and so a bit of searching turned up some links like:

www.drlaura.com

www.stopdrlaura.com

and even nude photos!

Hmmm......? You can use Google to do your own search and see what comes up for Dr. Laura.

Given the doctor's philosophy, at least via these web articles, one wonders what she will make of the previous owner of Nipper's (down in the old Montecito triangle) current relationship with the owner of the SBNP. Seems like pretty strange bedfellows...

Who is up next in line for columnist, another blond? Ann Coulter, perhaps? One never knows...

There is a nice read by Ken Williams over in Op-Ed. And Starshine, always.

The juxtaposition of these three things was incredulous at best. As well as that giant red "g" over in the D section. It sort of upstaged everything, in a way. Curiouser and curiouser.

Alas. Subscription cancelled, in support of journalists there. Looks like Dr. Laura will be subscribing in our place though. So she can read herself.

Seems like T. M. won the Pulitzer because he was against...

It'll be interesting to see what the Gay and Lesbian Resource Center has to say about this new tack.

Great pieces in The Los Angeles Times today...
They have a fabulous new series on the state of the oceans, worldwide. Scary. Especially when you think about all the seals that have been washing up dead along our own beaches here. Or the brown foamy stuff that comes in sometimes and looks plain weird at low tide along our coasts. Fortunately we are very conscious on the whole up here about keeping our beaches clean, so you don't see much trash littering the beach for the most part. The water is warm, and like silk right now. A walk along Summerland's coast is still gorgeous as ever. The drainage ditch there sports a lot of green algae and there were tiny fishes in the fresh water that pools there every year.

What is scariest was the "fireweed" growing down in Australia, and the "dead zones." How do you stop something like that once it starts? Also, in some parts of the world eating jellyfish is a delicacy...Oooof! Gotta read this series to find out the rest.

These articles are so important to us because of the efforts of Santa Barbara's own "Heal the Ocean" group here in town. Don't miss this series! And go to the link
www.healtheocean.org/ to read about the "heal the ocean" people and what they are up to in SB.


Steve Lopez's column is telling too. Glad he's up here, investigating various things around town. Like real estate prices, who's friendly, and editor's salaries...

$200,000 clams?

Hmmm.....

And over at LAObserved you can read about the potential sale of The Los Angeles Times as well. Just click the blog links and go. You may have to register over at the Times, but LAObserved is just a click away.

Saturday, July 29, 2006
Clearing up some ugly Montecito traffic snarls, the simple way...
Being a local and all, it's not too hard to see where the traffic is really getting into a bad, bad snarl in a few places near the Bird Refuge, and down along Coast Village in Montecito Friday afternoons. Getting down to Summerland now requires fierce strategy.

A couple of these intersections are accidents waiting to happen, with all the increased traffic coming into and out of our area due to all the tourism the city has promoted.

Traffic lights are in order at several key points:

Where Old Coast Highway hits Hot Springs Road at the Montecito Shopping Center. What a nightmare! There are simply too many cars on the road for this kind of old-fashioned intersection. We need some lights there, as soon as possible. Adding to this is the giant stream of traffic along East Cabrillo Boulevard pouring into this same area on Fridays as well, heading for points south. All of that is messing up the tranquility of the Lower Village, and really disturbing the last big exit out of town at Coast Village and Olive Mill Roads as well.

Out-of towners aren't familiar with our grid of one-way streets and old-fashioned stop signs. Nor are they particularly courteous what with the road rage witnessed by the Star yesterday along these specific routes. Traffic was pouring in from the south along Jameson Road and gridlocked right at Olive Mill as well.

It seems a shame that the lovely scenic routes by The Bird Refuge and along Old Coast Highway are crammed with vehicles trying to outsmart freeway traffic at these particular small junctions. Traffic lights would solve that, and allow the flow to move in a progression that can work for those areas in a sensible manner.

If something isn't done soon, you'll probably see the jam move up to East Valley Road, sadly. We wouldn't want that, now would we?

On how to flunk "Journalism 101" --

Have you ever known a newspaper to "recycle" its Editorials?

It simply isn't done.

Except it's being done up here.

Oh, and by the way...looks like you're flunking "House Ads 101" too.

All the more reason for The Los Angeles Times to expand northward. Now.

Geez.

Horrible News on today's front page of The Los Angeles Times!
PLEASE DO NOT SELL THE LOS ANGELES TIMES!

Otis Chandler and T. M. Storke were one and the same. Newspapermen.

You must understand how important you are to the baby boom market. That is the core of your readership up here in Santa Barbara and its environs. Please open a Malibu bureau and expand up here. We have NOTHING! and this is the perfect moment for you to make a move northward. Your territory could extend easily to the Santa Ynez valley.

T. M. and Otis would be rolling in their graves over this media catastrophe.

So much talk has been made about capturing the dwindling youth market for readership in the last few decades. But that isn't where the money is. It's in the baby boom, and your loyal readership who wants to read your fabulous writers and columnists.

Great news yesterday, Steve Lopez is up here surfing! See, he is already moving into this territory. Also, your article on SB firemen and housing was prescient.

We have some of the BEST writers around up here, and best newspaper people just waiting for you. In the Star's opinion WEST magazine was the best thing you've done to capture our market up here. Also Life magazine on Fridays. Your sections have the perfect sophistication and balance for this market as well.

You have to come! Otis would demand it, given what has happened at T. M.'s old paper!

Please?

Don't let your wonderful newspaper die.

You are our last hope.

Friday, July 28, 2006
More follow up on the mess over at the Santa Barbara News-Press for you out-of-towners and journalists who are interested. A noteworthy read.

In truth, tons of people who used to work at the News-Press are gone. Tons and tons of people.

So, what happened?

Nobody reported on those stories did they?

The Star asks why? All of those stories should be told, and no one should have to fear speaking their truths because of litigation, now should they?

Take a browse around this charmer...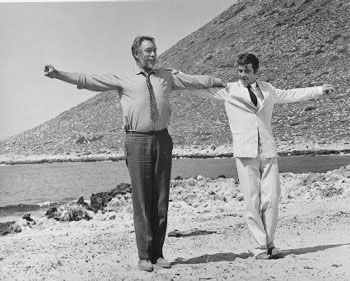 Dance. Over at the Santa Barbara Greek Festival this weekend in Oak Park. It's a fab festival that runs for two days here every year. You can read all about Greece over at Matt Barrett's charming www.greecetravel.com (by clicking on the headline for this post) because you are going to want to go there after this festival. The whole town turns out for it! Additional links coming for wonderful Greek food as well, that you can make if you dare. That phyllo (filo) can be tricky at times. It tends to have a mind of its own.
The saddest news in town about Jimmy's Oriental Gardens
This is tragic. Jimmy's is one of the last old great Santa Barbara restaurants. Maybe somebody will step forward and preserve it like they've done over at Arnoldi's. Both are restaurants the Star's editor has frequented since she was a child.

Jimmy's was paradoxical in that it had two sides to it. A formal Chinese restaurant on one side full of lanterns and antiques and style, and then the mysterious deep red bar on the other side.

Just sinking into one of the red booths was respite from the outer world. Over the years you'd see the same people at the bar -- people like the long-haired mailman who finally retired from the Post Office down the street. The theatre crowd hung out there too, and the artists and writers around town. You'd see them with a drink and a plate of something up at the bar, chatting with Willy, who is one of the last "real" bartenders left around.

The Santa Barbara Independent has a wonderful piece up, and you can read it online via my links if you haven't got the paper in hand.

Losing Jimmy's is akin to Yee Mee Loo's closing in downtown LA, or, if The Formosa ever closed. I spent years in all these places with my uncle. Even at "Frank's Rice Bowl" (which used to be on State Street here).

We always ordered War Won Ton soup, and Jimmy's had the BEST in town. Now what?

Canon Perdido will never be the same, losing Jimmy's. Never. Few places have that brand of atmosphere anymore, anyway around town. Go, tonight?

Thursday, July 27, 2006
Check out these words:

"storybuilder, newsresourcer, multiskilled journalist and newsflow editor"

hmmmmm......?

new words for a very old trade, rethought.

Or is it more like a reality TV episode overall.

Awww. You can just do your own lil' paper, huh?

Wow.

Look at the upper left corner.

Looks like it's all about advertising, now.

So what do they mean by "convergent journalism" anyway?

Much info over here...

Scooped.

Hmmmm...

Somehow?

began to transform how newspapers...

did things.

Well, gee whizzin' willickers.

Regarding pagination up there in its early days, circa 1991. But, let's fast forward shall we?

Because, I think what you are about to read may shock you.

That may not be a bad thing, though. Being shocked.

I remember the total doofus who was responsible for bringing these guys in.

He probably owned stock in their company. Betcha he's outsourced now.

It would serve him right.

This is a must read! Very sad, overall for the industry.

So? How is the next generation of journalists going to be trained?

Pretty big question, huh? If they have no newsrooms and mentors.

Hmmmmm.........

Well good morning lil' Inktomi searcher and Georgia Southern U.
You seem to like it out here, so why not leave a comment?
Do I ever have some scoops for you...!

Ooooof.

Feel free, as this is a blog about journalism to say what you feel, okay?

I mean why not?

This is meant to be an interactive blog in the first place, huh?

Wednesday, July 26, 2006
Well, for the most part this is accurate at least up until 1992. Pagination has changed the face of the newspaper workforce in 2006. It's possible if you went to some little town someplace all this stuff might still exist -- but at some papers it no longer does. Whole departments have been slashed as the technology changed.

All the layoffs in the name of progress have done nothing to enhance the soul of the press. Perhaps that is why it's so sterile in general, and circulation is falling all over the world.

Then again, when "the bottom line" is the only thing that counts (read bean counters here) you just can't expect a lot of soul, now can you?

That's the really sad part.

Most of that very expensive technology doesn't work half the time anyway, huh?

Some of it is just a plain ol' joke. Oooooof! No, make that: OOOOooooooofffff!

Some of them are so fancy!

And, it isn't even that long ago really, when you think about it.

The masthead counts for everything, doesn't it?

A great place to see newspaper history before your very eyes! (these haven't been recycled)...

This one takes a look at 2006 in the industry.

Great article on the industry overall, and some sad truths too.

Abolish that "Abolone" and you'll do just fine...
Ooooof.

The Star feels your pain. But you are the cutest little paper around with charm and heart, too. Locals can look for a copy of "The Santa Barbara Daily Sound" all around town. It just has that local, harbor-esque feel about it, and it's worth a read. Daily.

See their link here under The Newspaper Association of America, or find them at:

www.santabarbarafree.com

Gotta love harbor people, especially around our harbor. You can get a copy of the "Sound" down at The Minnow, and while you're at it -- have one of the best kept secret Santa Barbara Breakfasts in town, and THE BEST coffee in town too.

If it's lunchtime -- go for the fish tacos!

Tuesday, July 25, 2006
On the business of newspapers...

Monday, July 24, 2006
A great article, and site that allows the public to understand what is actually going on when it comes to media mergers. They have a lot of links for you to peruse as well if you are interested in this subject.

One of the most fabulous things about Santa Barbara is who lives here. It's not just the land of the super-rich, even though most of the world thinks that, and it's not always the "Paradise" it's forever being called either.

It's not just the land of the McMansion even though that's happening in pockets around town all over the place via the remodels. There are many locals and natives here, and there always will be.

It seems sad a bit that most of the press in this town is devoted to real estate ads.

It wasn't always that way.

I was struck yesterday by the quality and content of writing in the Los Angeles Times as I am everyday. There is a fantastically funny piece on "Dumpsters" by Chip Jacobs out of Pasadena, plus a great illustration!

Anybody who has ever gone through a remodel here is going to relate to this one...hysterical! You can access it off the LA Times website, I believe, if you missed it in print.

Oh, and those rules in their Editorial pages "Current." Damn. They looked gigantic! On Sunday they get even larger (was that 20pt?)...love the T, too. It has so much...flair! (design-wise).

Of important note locally in the Sunday Santa Barbara News-Press was a gigantic display ad placed by our local Police department (I think), because it didn't sport a "Paid for by" disclosure. We need our policemen and firemen and teachers to be able to live here. They used to, didn't they?

We were more of a small town once. Miss that.

This is the heat wave from, dunno. Whew. Unbelievable and fantastic cumulus clouds overhead, and great sunsets of late.

Less commuting by local workers means the freeway problem will clear up by itself.
So far, I'm only researching things of interest to others in media. It's exciting doing a start up. Fun.

Sunday, July 23, 2006
It's interesting that the AP...hmmm.
See the previous link from Chron.com to read more about this.

Seems like a pretty big empire.

Giant actually.

No wonder bloggers are making up new newspapers.

At lot of articles I've seen talk about ways people want to "monetize" the news.
No wonder the public distrusts journalsim and the press. It's all those Advertorials.
An advertorial is something that looks like it's news, because it has stories in it -- but in actuality it's paid for by the advertisers behind it.

The stories aren't fresh, they're "canned."

This looks like a very interesting company overall. Imagine how they will capture the heart of the Heartland.

Looks like nobody is writing local Human Interest pieces anymore. Instead papers have to buy that content as an insert from a conglomerate like this. I wonder why?
Reporters used to do that, or columnists.

You can browse around all over this site and take a look at who's who here, as well as the content of their new magazines and the advertisers who are branding them. Pretty interesting people these guys work for, huh?

An interesting article about how "branding" works in general. For you, or against you.
Next, a brand is born for Middle America. Wait till you see the content, and the brands behind it.

Makes a person start wondering, hmmm...

Interesting they chose Darwin as a name for this magazine too.

Social Darwinism. Now that's a concept and a half.

Saturday, July 22, 2006
Pretty sad to read an article like this. It's a month old, but, since The Star is hot on the topic of who owns what in the Newspaper industry right now, it may be prescient after all.

It would be sad to see a paper like the New York Times go. Or the Los Angeles Times.
A newspaper is "its history" and that is all there is to say.

A newspaper is a tangible manifestation of the ghosts of everyone who ever was there, making sure it came out. Anybody who has ever worked in the industry knows what I mean by this.

Would you like to see just ONE corporation putting out the news? Worldwide? Nationwide? Statewide? Citywide?

I don't think so. Although I'm quite certain a few people in the industry might like that idea just fine. People have become so concerned with "brand" in the last few decades, haven't they?

But, what is "brand" costing the American people? What is it costing them intellectually?

What if a giant corporation like Wal-Mart (just to use an example) was responsible for your news, and your daily paper too. What do you think the content might be like if this were the case?

Would there still be a place for all of the diverse voices that make up the American newspaper?

It's food for thought isn't it.

Personally, I don't shop at places like Wal-Mart. We don't have one here anyway. I prefer going to a wide variety of places when I need to purchase things. Contemporary "targeted" branding just doesn't work for me at all.

We have one huge mall on the outskirts of town with those kinds of stores.

I, however, like the littlest stores, though, because I like the people who work in them.

So that's where I shop, when I need to. Think boutique.

I know which newspapers are famous for which things too. So, if I want a New York Times on a Sunday, or a San Francisco Chronicle I buy one. I read the Los Angeles Times every day and have for years. I never miss my weekly Santa Barbara Independent. Want to know why? It's the writing!

Do you think readers here are going to accept canned generic news and nothing of interest to read? I don't think so. This is Socal.

Since when did American newsprint become a commodity?

So, since I founded The Star, I get to choose who and what I feel like advertising. Guess what? It's going to be very fun as it all comes together. I think I'll advertise books my friends are writing! (What a concept!) And, they won't have to pay either.

Hmmmmm...

As far as comments go here, feel free to leave them as you wish. The blog will be attached to the main newspaper I am creating, as feedback, and a social network for the community who reads it. I have chosen Blogger initially for the blog because people can be anonymous if they need to be. It may shift to a model like LAObserved uses later. If you want to see a state of the art journalist it's Kevin Roderick, and the links off his blog are great as well.

Friday, July 21, 2006
What an interesting graph, at this site.

Take a look at this. And stay tuned to the Star.
Santa Barbara loves to sink its teeth into stories like this.

Oh, and wonderful coverage in the Independent this week, by Nick and Barney.
Barney is called "On the Beat" now. Funny. He used to be "Off the Beat" -- but I was told that the original column was called "On the Beat" and when he took over (from the previous writer) at the SBNP, the name changed to "Off the Beat" -- funny how history has a funny way of repeating itself.

There is also a fabulous letter by T.M.'s granddaughter, too, over at The Independent. I loved what she said about her grandfather T. M. Storke.

Read all about it! How editors choose words, yes, words!
That's how important they are.
Betcha didn't know that didya?

Editors are some of the most important people on earth and a bad one can...

Just saying...

Ooof. Terrible news! Tragic, I daresay. For purists anyway. This must be another brilliant move by the resident bean counters, writ large.

Never trust a bean counter. Never. They only have one thing in mind, and that is how much is in it for them. Oooof.

Think you've got the only game in town?
Thursday, July 20, 2006
More interesting info here, about modern office architecture and why it doesn't really benefit the human soul.

Scooped!

A fabulous article on the general ineptness of HR departments within modern corporations.

Oh, this is rich. And when I say rich, I mean decadently truffle-flavored raspberry chocolate molten souffle cakefilled truth dished up just so.

Exactly when did the term Personnel Department turn into Human Resources anyway?

"Human resources" sounds like just another mechanized widget to be moved around doesn't it? Like Dilbert's recent comments on "coffeeholes" in the cartoons.

Thanks Fastcompany.com for sharing this magnificently complex trifle.

Let's face it shall we?

If a loser is running that department in your company, the Star recommends cutting to the chase but pronto.

Your most valuable resource is your PEOPLE isn't it? I mean, it isn't the cubicles and it isn't the computers and the software now is it? It's the people, people.
Or at least it used to be, anyway.

Ancient fables that are as true now as they were then. A fabulous site for family fun, and you can get a free Greek font here too.

I'll put a link to the paper under my blog links. I think some people I used to know might work up there now in Editorial. It's just a hunch though. There was an editor I used to admire very much at the News-Press. John Lankford. Once I wrote an Op-Ed piece for him a long time ago, but it got pulled at the last minute for being too controversial. I always admired John for his columns. Thinking about him this morning is pulling at my heartstrings. Also, I realize just how difficult it is, or how difficult it was, to be an Editorial Page editor. I can't even fathom how you all did it, and just know I have the greatest respect in the world for all of you, that I've had the priviledge to have worked with in the past.

Lucky for me that I got to work in a newspaper, because I got to experience what that is. I did it in a time we chased the typos all the way out to the press if we had to, and I guess, today, I just miss a lot of people I used to know.

Anyway, once John told me, "If you ever feel passionate again like that I want you to write it."

So, John, my first editorial is dedicated to you.

Some of the links don't work anymore, unfortunately. That's the trouble with the Orwellian nature of web-based publishing. I do have a lot of faith in the UC system though.

So, how does one begin to understand ethical behavior? By puzzling out ethical dilemmas. For instance, suppose a person finds a wallet stuffed with money and credit cards lying on the beach. It's obviously lost.

I'll give you four scenarios and you decide:

Person number one finds the wallet, hunts down the owner and gives it back intact.

Person number two says, "It's my lucky day," and steals everything in the wallet for himself.

Person number three is homeless and hasn't eaten for two days. She keeps enough cash to buy a meal on Milpas near the Casa Esperanza and leaves the wallet where she found it.

Person number four has seven children to feed. He makes less than the living wage as it is. Not only could he feed his family until all their bellies were full, but he could also buy a toy for his youngest daughter if he took that cash. He decides not to, and walks by the wallet shaking his head, but proud of himself.

In the above scenarios who has demonstrated unethical behavior, in your opinion?

I think you might like the Star, SB. I hope so anyway. I hope to be an old-fashioned voice for our town. I hope to be like T. M. in my way. Thanks for coming by.

Wednesday, July 19, 2006
You can see Storke tower just off to the left in this picture.

Thank heavens for USC and UCSB!

Storke founded The Herald! (once) check it out!

and check out "The Porcupine" what a fab name for a newspaper! LOL!

coming next...a picture of Storke Tower out at UCSB, only one of the Star's fabulous local alma maters.

Here is a web link but it's better to hold the real paper in your hand, huh? Like I do, every day.

Actually, they could just open a Malibu bureau and ? Hmmmm...................!

Gotta love Newspaper people. They are the fabbest in the whole world.
I've known many in my day.

They might even be the last principled people left, huh?
I refer to reporters, editors, pressmen and compositors here.

I just LOVE my LA TIMES!
especially the fab food section that comes Wednesday, and tomorrow's home design section!

And the best part EVER! The new WEST magazine on Sundays. At first I didn't love the thick 12pt rules on the Editorial pages after the redesign -- but now? Adore them. For their bravado and insouciance and wit.
(the rules, I mean.)

Just look at this fab recipe for a coffee pot de creme.

Yum!

(I could go for this after that rally yesterday...)

Tuesday, July 18, 2006
Too bad they sold it in the first place, no?

It seemed interesting that a woman could own it once upon a time. Fantastic, actually. Just goes to show what running it from a distance brings. Nothing but trouble. Best would be to roll up her sleeves, get in there and straighten out the mess by dialoging with each and every employee about what is really going on, and not just listening to management giving her the sugar-coated version.

I have faith that she could turn it around, if she cared to. But that would take an immense "hands-on" effort.

I doubt Ms. McCaw is even in touch with the staff at all, and she should be. I bet she doesn't even know about some of the monstrous things that have been done in her name since 2000.
T. M. Storke's employees were like family to him.

It'll be interesting to see what happens today in De la Guerra Plaza.

Monday, July 17, 2006
I remember Jefferson! He had that same Eastern charm that Bill Macfayden and Don Murphy also have. Hi Bill and Tom too. Geez? Remember the redesign we all went through? Ahhh, yes.
Arthur Griffiths it was. "Move that one point! -- no, down two picas, no, up one!"

Looks like Mr. Flanders is writing short stories now too! How fab! So do I. Maybe we can all reunite at next year's Santa Barbara Writers Conference. It's totally fantastic! And, Marcia Meier is the executive director. I'll link it under the LA Times, so you can see who was there this year!

It is fantastic!

my domain is under construction and will be here:

www.santabarbarastarfreepress.com

nice to see you three out here!

Yes, The Star Free Press is real!
Now, for a choice of design...and yes! I once walked T. M. Storke's hallowed halls, viewed his vast library (of clippings) and his bound archives in the tower pre-remodel. The Star will exist as a counterpoint for Santa Barbara readers once I have it up and running.

I have the greatest respect in the world for journalists and journalism proper. And T. M. -- who was known to have shouted once "Stop the presses goddamit, this is T. M. Storke!"

As far as stylebooks go, I expect I shall have to invent my own for this virtual frontier, because frankly I've used far too many of them in my day to sort it all out. Let me see, was that Strunk and White once upon a time as I sat in Storke Plaza cramming for yet another blue book final?

I do believe it was.

My hat is off to those venerable publishers I've known such as Stuart Taylor, B. Dale Davis and even Joe Tarrer who was known for his famous Stonehouse luncheons up at the San Ysidro Ranch.

The Star is real, Santa Barbara! And it is not a product of any other publisher in town, or a whim. Once my domain is set up, I'll feature guest editors and writers from around the globe on various topics.

Although I saw a comment over at the Independent claiming I was Starshine, you are quite wrong. I did know Starshine once, though -- and I must say both her columns and hair are fab.

On that note, good morning!

Saturday, July 15, 2006
Those gags were a very sad sight indeed. Even Barney cried.
Kevin Roderick of LAObserved has it covered.

Journalism, the old-fashioned way!